Training Certification from Work Life Balance Experts
Training certification of your staff to facilitate the live portion of the blended time management, work-life balance and leadership courses provides great flexibility and in-depth application for your organization. This train the trainer method is especially helpful when you have a number of people to train on an ongoing basis. Online courses can be delivered before or after your face-to-face sessions, allowing you to schedule the live training for the time and number of participants that works best for you. If you are interested in training certification for yourself or the train the trainer program for your organization, please call us Toll Free 1-877-644-0064.
(For training smaller teams consider our Quick Start Facilitator Package)
Learn More about Our Time Management, Work-Life Balance and Leadership Training Programs
Training certification options include the following 5 Steps curriculum:
Time Management
Work-Life Balance
Leadership/Management
Stress Management
The trainer training includes the delivery of concrete tools that immediately elevate productivity while increasing employees' respect and appreciation for your leaders and your firm.
The "5 Steps" that facilitators learn to deliver result in managers and employees learning, retaining, and using a skill set that drives performance on the job and conveys an appreciation for achievement and enjoyment in their own and other employees' personal lives as well.
The leadership and management trainer training from WorkLifeBalance.com develops weak managers into good leaders and good leaders into ones who more consistently excel.
We Offer an Exclusive Technology Support Platform
Our programs, including management trainer training and leadership training, are extensively supported and the live training reinforced with the help of our technology platform, which includes:
A monthly educational newsletter to all participants. This newsletter can be co-branded upon request.


E-postcards that reinforce each tool and skill taught.


Email communication templates for the initial and ongoing organization-wide implementation.


Email sending and administration for web-course sign up and consumption reminders.


Data on course utilization by employee and group.
If our time management, work-life balance, or management trainer training programs are conducted at a client-provided site, additional master WorkLifeBalance.com Trainer travel expenses will apply.
All workbooks and other program materials used for training certification, with the exception of follow-up letters, response forms, and written process review, must be ordered from WorkLifeBalance.com, Inc.
Reproduction of any program materials including, but not limited to, workbook pages, graphics or 5 Steps tools or phrases is strictly prohibited.
For more information about our training certification programs, contact us.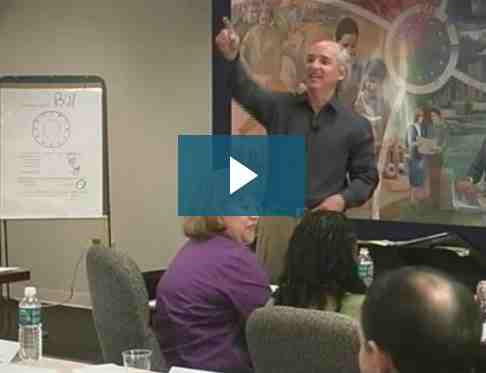 View Demo
"We found it valuable to have us certified in the delivery of the WLB course and follow-up…The training has provided tools to be more effective and to manage balance objectively. We have sustainably moved the needle in the right direction…and have changed our culture along the way. We are delivering more, our people are better off, and our organization's health has improved."
Director of Finance
Top 5 Companies World's Most Respected Brands
Available Programs
Available onsite or online
Available onsite or online
Available onsite or online
Available onsite or online
Your facilitators deliver
For your event or meeting
What Does Training Certification Include?
Training certification includes:
2 – 2 1/2 days of intensive certification training and co-facilitation with a Master WorkLifeBalance.com Trainer
---
Instructor's manuals
---
Slides of the Big Picture Visual and of all other visuals used in the training certification program
---
License to use "5 Steps" Instructor Support DVDs.
---
Use of licensed material at contracted per participant licensing fees:
Personal workbook for continued reference
Personal feedback meter
Follow up letter, response form, and written process review