Advanced Time Management Training – More Control and Value from Your Time and Life
WorkLifeBalance.com is the leader in non-planner specific time management training.
The objective of most time management companies is to train you on how to use "their" calendar system. Although learning the tips on using a planner or calendar are important, your overriding objective is to find ways to create more value for yourself and your team in both your professional and personal lives.
Advanced Time Management Training delivers this increased value from your time through five easy-to-use, trademarked time planning tools. Through highly-interactive learning, participants will apply these easy-to-use mental tools for more effective calendar use. More significantly though, they can apply these time management skills in numerous other ways to get more of what is important to them done in less time, both on and off the job.
No other time management training has comparable measured results – a 96% completion rate on identified business and personal objectives. Learn more about our valuable time planning tools – call 1-877-644-0064 or watch our free time management demo online.
Time Management Training Program Highlights: Using Our Valuable Time Planning Tools
Our time planning tools are designed to impact all aspects of both professional and personal life – read the highlights of our time management training program below:
People – A two-minute method to immediately improve the value derived from every relationship

Projects – Timely completion of your most important project activities to advance your goals

Organization – Improved productivity through quick, effective planning & organization tools

Delegation – Much more effective and timely delegation

Follow Through – A tool for preventing anything from falling through the cracks

Focus – Staying in focus despite interruptions, increased value from each personal interaction

Goal Accomplishment – Connecting daily activities to your work and life goals

Listening – Using listening time much more effectively

Communications – Reducing the time delays and value lost by miscommunications

Procrastination – Escape the "As Soon As Trap" that so often defeats most other time management training

Control – More control and value from your time and your life

Success – More every day Achievement and Enjoyment on and off the job
View The 5 Steps (PDF)
Time Management Training Benefits to Your Organization

Increased individual productivity, accountability and commitment
Much more timely individual and team project completion
More effective communication throughout the organization
Less negative organizational stress
Noticeably improved teamwork

Time Management Training Benefits to the Individual

More control and value from your time and your life
Increased recognition and reward from higher personal productivity levels
Improved relationships both on and off the job
Reduced stress and more enjoyment of everyday life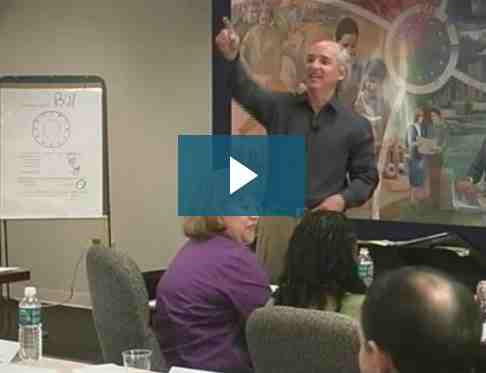 View Demo
"WLB's training has given managers and employees the skills they need to manage and balance it all. More efficiency in handling work issues individually; A common language to get things done faster; better abilities to handle and make the most of the personal sides of life, which means more focus at work. The result is more achievement and enjoyment in all the areas of life. Everybody wins."
Pete Turco
Director of Human Resources
Lafarge North America
Available Programs
Available onsite or online
Available onsite or online
Available onsite or online
Your facilitators deliver
For your event or meeting
Why Work-Life Balance Education? Learn More
Unmatched Measured Results
97%
follow through on important work and personal objectives
94%
are still using the tools after 2 months
91%
continue to be more productive at work (Average reported productivity increase is 24%)
99%
recommend expanding the program to others
Delivery Options
Worklifebalance.com Facilitators

Trainer Certification

Quick Start Facilitator Program

Online WorkLifeBalance University Training

Ongoing Work-Life Training and Resources Program
Request More Information
"The only training I know of that combines so effectively the key elements of time, relationship, self and project management. Great results on and off the job."
Pete Walczuk
Senior Vice President
SunTrust Banks