5 Steps to Better Leadership Training Program
When individuals are motivated by the right leader, they drive themselves to excel.
The 5 Steps to Better Leadership Training program delivers concrete leadership tools that immediately elevate productivity while increasing employees' respect and appreciation for your leaders and your firm.
This straightforward management and executive leadership training delivers immediate practical results. The 5 Steps develop weak managers into good leaders and good leaders into ones who more consistently excel.
Through this leadership training program, managers learn, retain and use a skill set that drives performance on the job and conveys an appreciation for achievement and enjoyment in their own and employees' personal lives as well.
Productivity Plummets When People Are Not Happy With Their Boss
Management & Executive Leadership Training To Address These Facts:
#1 Reason People Quit – Their boss




50% of employees would fire their boss




Those poorly lead work groups are:

50% less productive

44% less profitable
You don't want your leaders and managers to be like those unskilled bosses.
The 5 Steps to Better Leadership training program addresses the critical skills that impact the leader's and the employee's commitment and performance.
The Steps taught in our executive leadership training are specific and are immediately applied. No other management leadership training has comparable measured results – a 96% completion rate on identified business and personal leadership objectives.
Source: Gallup Study of over 1 million employees
Leadership Training Program Highlights
Leading people & managing things – the critical difference

Increased productivity through better planning & organization

Effective delegation & follow-up

Much more timely project execution

Staying in focus despite constant interruptions

Improved team communication techniques

Listening techniques that gain respect & motivate employees

Mastering the choice challenge

More daily Achievement & Enjoyment for the leader & team

Executive Leadership Training that is retained
View the Leadership Training Program Steps (PDF)
Leadership Training Benefits to Your Organization

Measurable increases in individual and team productivity.
Better communication, teamwork & trust at all levels.
A high morale company culture.

Leadership Training Benefits to the Individual

More control & balance in your work and life.
Increased productivity with less stress.
More effective communicator & delegator.
Improved relationships both on and off the job.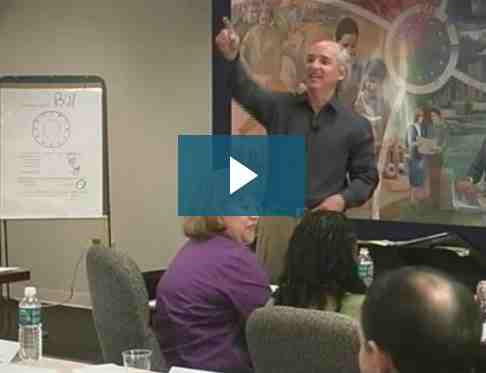 View Demo
"There is a clear ROI from the 5 Steps Training. Turnover is down. Performance is up. It has strengthened our culture of respect and appreciation. It has moved us higher as an employer of choice and strengthened the results in our employee surveys…There is a sense of less stress in the organization and people are happier."
VP
Fortune 50 Company
Available Programs
Available onsite or online
Available onsite or online
Available onsite or online
Available onsite or online
Your facilitators deliver
For your event or meeting
Why Work-Life Balance Education? Learn More
Unmatched Measured Results
97%
follow through on important work and personal objectives
94%
are still using the tools after 2 months
91%
continue to be more productive at work (Average reported productivity increase is 24%)
99%
recommend expanding the program to others
Delivery Options
Worklifebalance.com Facilitators

Trainer Certification

Quick Start Facilitator Program

Online WorkLifeBalance University Training

Ongoing Work-Life Training and Resources Program
Request More Information